Goodwood Revival Fashion Guide for Ladies
Everything you need to know about the fashion and glamour of Goodwood Revival.
What to wear for Goodwood Revival 2023
At this time of the year, we are asked all the time for clothing and vintage styling advice from those attending the famous Goodwood Revival racing event. So we have created this handy 'Goodwood Revival Fashion Guide' for vintage dressing tips and further information to help you on your way to one of the most amazing vintage events of the year! 
We are regularly asked 'What can I wear to Goodwood Revival?'...
This famous event attracts thousands of visitors from all over the world and whilst it is known for vintage and classic motorsports - it's also known for it's vintage fashion and glamour particularly 1940s through to 1960s. There are vintage fashion parades thoughout the weekend AND a best dressed contest where scouts from the event will select from attendees who they believe encapsulate the vintage fashion glamour.
It really is an excuse to dress-up TO THE NINES in vintage inspired fashions and style of the period covered; 1940s, 1950s & 1960s (although there are many who choose to 1920s and 30s too!). 
Things to note for Goodwood Revival First Timers:-
You will definately regret it if you don't dress up - it's part of the experience!
Take something warm just in case you decide to stay late – it can get very cold once the sun goes down
You may have to walk a fair way from your parking – take suitable walking shoes and change when you arrive at the event. This can also save precious vintage shoes from wear!
You can get your hair done but it's always worth booking in advance
Getting dressed up really is a thrilling part of attending this event - not only are there fashion shows and events going on - you could also win an amazing prize in the 'best dressed' comp
1940s Outfit Suggestions
1940s fashion is much more versatile than you may initially think. The 1940s to many will bring to mind the glamour of the 40s Pin Up - but there is so much more to try out from this period and it's a very flattering look. We have the practical styles of the wartime Land Army Girls - high waist trousers and masculine blouses. Then there are the ultra feminine 1940s tea dance dresses in floral prints, wedge shoes and brogues. Dont forget the high glamour of the film noir styles from the 1940s too.
Makeup: subtle winged eyeliner, red lip, false lashes
Hair: 1940s hair is definitely the iconic element of this era - but can easily look silly if not done right. Avoid victory rolls and try the 40s poodle or pageboy with hair flowers.. check out instruction videos on youtube. If your hair is shoot - opt for a turban style or head scarf.
Accessories: seamed stockings/tights (order here), hat or snood, diamanté jewellery
Shoes: brogues or sandals with a platform
1940s Goodwood Key Look 1 - Utility Style Suits
The is a great style for those who seek a practical yet super elegant option - or for when the weather isn't quite as clement. There were some masculine elements to the suits of this perios and trousers were becoming more acceptable. Trousers from this period are different to modern styles - choose reproduction high waisted, wide leg trousers which are really flattering and should be paired with a waisted jumper, blouse and jacket. 
See our utility style collection below.
During the 40s it became much more acceptable for ladies to wear trousers but these styles are still very different to our modern versions. High waisted, wide leg trousers are really flattering and should be paired with a waisted jumper, blouse and jacket.
Our 1940s style trousers are best seller at Goodwood
1940s Goodwood Key Look 2 - Film Noir Elegance
The American style in the 1940s took a direction of its own as supplies weren't affected in the same way as Europe. At Goodwood Revival, many ladies adopt the ultimate and iconic sophisticated clothing of the 1940s hollywood glamour - whether that be a suit with a faux fur or an elegant draped dress with shoulder pads to emphasise the silhouette. Remember the must have accessory for this outfit - headwear! This may be in form of a tilt hat, a beret or even a turban.
1940s Goodwood Key Look 3 - Classic Tea Dress
Think tea dances, picnics, flirty florals, shirt-waisters and sweetheart necklines. The classic tea dress is an iconic 1940s look - it's what we often think of when we picture 1940s style.
Supremely feminine, elegant and comfortable too, this style is often adopted by many ladies at Goodwood Revival. Pair with a blazer, simple jacket or even a cardigan. A tea dress can be dressed up with heals and jewellery or down with a head scarf.
The House of Foxy is reknown for it's authentic collection of 1940s designs. Peruse our 1940s collection of ladiewear perfect for Goodwood Revival.
1950s Outfit Suggestions
If you prefer high glam - then the 1950s is for you! Goodwood Revival really is the perfect opportunity to dress up to the nines! For those of you who like a glamourous look and want to feel like you're really dressing differently then a 1950s inspired style choice is the one for you!
There's no doubt that the 1950s look is one of the most flattering for all shapes - whether you go for a sultry wiggle pencil style or a full and frothy petticoat - it's all so glam.
Makeup: Strong winged eyeliner, bold lip in red or pink, false eyelashes
Hair: 1950s classic hairstyles were just as varied as the 40s but perhaps more daring. Short and shaggy italian cut styles, curled and waved short hair, pageboy or worn in a ponytails with bangs. Again check out instruction videos on youtube.
Accessories: seamed stockings/tights (order here), plenty of jerwellery, matching bags and gloves
Shoes: court shoes eith a heal
1950s Goodwood Key Look 1 - Dior's New Look
In 1947, Dior launched the classic 'New Look' - which was all about the ultra feminine hourglass shape. The waist was emphasised by a full skirt and tailored jacket often with strong shoulders. This look became the iconic shape we now think of when we visualise the 1950s.
1950s Goodwood Key Look 2 - Feminine Cottons
The 1950s was post war optimistic - and this was strongly reflected in fashion through colours and prints. Iconic brands including British brand Horrockses spear headed the floral cotton dresses which often had full and frothy skirts. Although this is a more casual look - it's super feminine and perfect if you fancy something more comfortable.
1950s Goodwood Key Look 3 - The Fitted Wiggle
The second silhouette is about a close fitting 'pencil line' look - the hemline was lower and the waist still slim and wasp tight. This can be achieved with good underwear but also by using blouson styles on the top half to create the illusion of a smaller waist. For those who like to dress well but want a sophisticated look - then adopting the 1950s pencil line style is for you! You can do this in a number of way - a sexy wiggle dress that hugs your curves, a classy fitted suit or a more conservative pencil skirt paired with a blouse and a 50s style swing coat.
1960s Outfit Suggestions
Fancy yourself as Joan from Madmen? The 60s doesn't have to just mean a mini skirt or mod look. For many, the 60s epitomises the grown up glamour of the 'pill box hat' styles from Jackie O and Pam Am.
This is a perfectly classy look for Goodwood Revival. So get your twin sets out and your pearls and check out our grown up glamour options whioch are perfect for Goodwood.-
1960s Goodwood Key Look 1 - Jackie O Chic
The original fashionable First Lady managed to maintain her impeccable style throughout her time in the White House. Jackie's style was prim skirt suits, pillbox hats and accessorised to the max and made her the style inspiration for women across America. This is a super chic look.
Top Tip: Max out this with coordinated accessories and super sized dark glasses
From the Blog
Stories from the Sampling Room – The Jitterbug Dress
The Jitterbug dress brings me much joy. It is a bundle of happiness and optimism personified in a dress. I honestly think that we were channelling this when we started creating...
Read more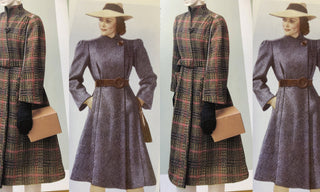 Stories from the Sampling Room - The Utility Coat
The strangest year on record continues...but we have enjoyed the time to work on new styles and ideas for both the upcoming AW season and for next year. Although we cannot...
Read more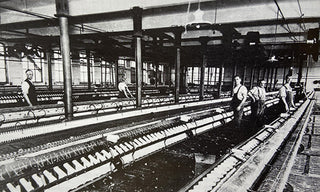 A Dream in the Making
We are just over half way through a very challenging year for people all over the world. There is absolutely no doubt that the 2020 pandemic has wreaked havoc for so...
Read more
Safe & Secure Payment
All payment information is protected by secure connection
Pay in 3 with PayPal
Spead the cost with flexible monthly payments with PayPal
International Delivery
International Delivery available to Europe and the United States
Pay in 3 with Klarna
Spead the cost with flexible monthly payments with Klarna