1950's Vintage Style Guide
1950s Fashion & Style Guide - How to dress 50s style
1950s Fashion Overview
To think of 1950s fashion is akin to a bright summers day! Glamourous shapes, colourful prints and always exaggerated with voluminous skirts and tiny waists. 
The 50s Silhouette
There are two main silhouettes in 50s fashion – the wasp waist with full skirt and the slim fitting pencil skirt. Both are iconic 50s looks that prevailed until 1956 and can be portrayed as super sexy or fun and flirty – depending on how you wear them.
The beauty of the 1950s era is that there is a 'look' that will suit any body shape – the more womanly the better. For those of us who lack curves, these can be created easily with a bit of help from belts, foundation garments and plenty of net and padding!
A bit of History
To understand the clothing of this era, one must understand what was really going on and how it influenced everyone's way of life and subsequently how they expressed themselves through dress.
Let's not forget that people did not see the back of rationing in one form or another until 1958. Even though we look back at the fifties as a colourful vibrant era – it was really a time of hard work for the country to get back to stability. Despite the hardship, people were happy and not surprisingly there was euphoria from winning the war. By the end of the 50s, the hard work of rebuilding the country had paid off and we were well on the way to prosperity. By the end of the decade, nearly every household had a television and people found they had disposable income again possibly influenced by the rise of women going to work.
All these economic and social changes had a significant impact on clothing and the pace of fashion in our country.
1950s Fashion
From a fashion point of view, this was the rise of the 'ready to wear' phenomenon. Clothing was now being manufactured 'en mass' and with greatly improved standards in construction and cloth quality. Variety was now available and imports started to return from, in particular….Paris.
Dior's iconic 'New Look' arrived in Paris in 1947 and due to it's vastly different shape to the war years – had an enormous impact on the fashion world. Style was now back on track, ironically picking up from where it left off before the pause created by the war. Dior created a succession of silhouettes he based on letter shapes – line A being an a-line silhouette derived from a widening towards the hem and was quickly followed by the Y-line, created by wide dolman sleeves tapering to a slim skirt. However, Dior's initial look continued to dominate for many years with fashion looking nostalgically to the past with its boned bodices and full petticoats.
The Rise of the Adolescent
It wasn't until this decade that the age between child and adult was acknowledged and a fashion more suited to this age developed. Full skirts, tight tops, capris and flat shoes – well suited to jive dancing become iconic for this age. This influenced casual fashions across the age range in both men and women.
As did the 'sweater girl' look – the feminine ideal of a large, pointed bust attained via the bullet bra, a conical pre-padded bra that pushed the bust upwards and outwards.
Petticoats & Full skirts
Wide circular or pleated skirts were worn with layers of petticoats to give lift and were prominent in both day and eveningwear. Always to mid calf - never shorter but maybe longer for eveningwear. Petticoats were several layers of net and generally starched for extra stiffness or frothy chiffon in eveningwear in vibrant colours of green, pink and yellow!
Pencil Skirts
A narrow, close fitting straight skirt sometimes call a 'hobble' skirt restricted women's walking creating the wiggle look. Fell from natural waist with little excess fabric with a small black split at the back. Pencil line dresses were also very popular for all ages, being a very sophisticated look for more mature women worn with heels and plenty of accessories. (The wiggle dress looks fabulous with a swing coat.) A pencil skirt with a shirt or sweater and worn with flats is a more fun way of wearing the look. Again the skirt length is important - it must be calf length to look really 50s.
The Sweater Girl Look
The tight sweater was born in the 40s and would remain popular throughout the 50s. Ironically, it's a little shocking to the modern eye as this look's aim was to emphasise a thrusting conical shaped bust and was invariably worn with a bullet bra. In actual fact, the modern rounded bust shape would have looked peculiar in the 50s - as everyone aimed for this shape bosom. Many vintage dresses accomodate for this shape in their makeup. The sweater evolved from turtleneck into the twin set - a 50s staple.
Get the 1950s Look – our top 3 tips to get you started
Tip 1 – the foundation
Foundation garments were deemed essential starting blocks. Nowadays, knickers are more hipster in style – but during the 50s, the waist was at the natural area just above the belly button. If you want to wear a pencil skirt and you were modern underwear you will get the unsightly bumps caused by these knickers. So our first tip is – get the right knickers.
Tip 2 - accessories
One cannot stress enough how important accessories were during this decade – a woman simply didn't leave the house without gloves, hat and handbag. Hats were small lampshade style, wide brimmed or pill box shaped and were often accompanied by a veil. Gloves were long in the evening pushed down with bracelets and short in the day. Get yourself plenty of scarves, tie in the hair, around the neck or into a ponytail – dont be scared of using bold colours. Wide belts:- small waist was the must have accessory to create the desired look whether with a full skirt, a pencil or capri pants. Wearing a belt emphasised the slim waist that fashion demanded.
Tip 3.
Lippy Red lippy really made its mark during the 50s – but you need to find the right red for your skin tone. Blue reds for pinky skin tones and warm reds for yellow. True red for everyone else. Use a pencil first and colour in the full lip adding the lipstick after.
1950s Fashion Shopping List
Whether it's a fun rock n roll image you're after or Christian Dior's sophisticated 'new look' of 1947, check out our shopping guide to get you started Capsule wardrobe for the 50s (enough to get you started):-
Pencil skirt 
Crew neck cardigan
Petticoat
Circle skirt or dress preferably halter or boat neck.
Bullet bra
Waist knickers
Must have accessories:- 
Red lipstick
Chiffon scarf
Gloves
Waist cinch belt
From the Blog
Stories from the Sampling Room – The Jitterbug Dress
The Jitterbug dress brings me much joy. It is a bundle of happiness and optimism personified in a dress. I honestly think that we were channelling this when we started creating...
Read more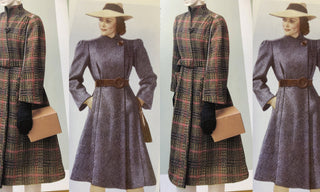 Stories from the Sampling Room - The Utility Coat
The strangest year on record continues...but we have enjoyed the time to work on new styles and ideas for both the upcoming AW season and for next year. Although we cannot...
Read more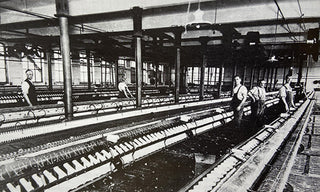 A Dream in the Making
We are just over half way through a very challenging year for people all over the world. There is absolutely no doubt that the 2020 pandemic has wreaked havoc for so...
Read more
Safe & Secure Payment
All payment information is protected by secure connection
Pay in 3 with PayPal
Spead the cost with flexible monthly payments with PayPal
International Delivery
International Delivery available worldwide
Pay in 3 with Klarna
Spead the cost with flexible monthly payments with Klarna