1930's Vintage Style Guide
1930s Fashion & Style Guide - How to dress 30s style
1930 Fashion Overview
1930s clothing brings to mind bias cut evening gowns in liquid satins and silks, tweed suits, flounces and frills and topped off by a cute beret or tilt hat. 30s Fashion certainly seemed fussier than the 1920s with its relentless ornaments of bows, trims and frills.
The 30s saw the birth and rise of ready to wear clothing and the production of cheaper, man-made fabrics. Fashion was now available to most not just the privileged few and it was beautifully designed, cut and made.
The 30s was and is still seen by many as the 'Decade of design' and saw many technological advances and changes in attitude towards design as a profession. This clearly had an influence on fashion during this time - as clothes for all classes became became an outward expression
A bit of History
It seems unfair that the 1930s is almost a forgotten decade - sandwiched between two very iconic and life changing eras that take up most of the attention. The 1920s saw a drastic change in women's lives after WW1 and was reflected through a period of excess and liberation. The 1940s was the opposite of this, where a period of austerity gripped the nation and fashion was extremely restricted. In between the two, the 30s began with the Wall Street crash resulting in the great depression and ended with WW2, and is hence seen often in a more negative light.
Socio-economic changes can be tracked through changes in fashion and style. In the 1920s, Women had more freedom than their mothers due to economic and social change and this was reflected in their simpler and more comfortable clothing. No curves, higher hemlines, a flat silhouette and an emphasis on youth. The 1930s, represented something quite different. A more sophisticated, grown up and womanly silhouette influenced by the rise of female designers Madame Vionnet, Coco Chanel and Elsa Schiaparelli.
The 1930s Silhouette & The Return of the Waist
By the end of the 1920s, the waist had returned to its natural position and would stay there for the duration of the decade and hemlines stayed quite low with day wear reaching low to mid-calf. The emphasis on the natural waist was further highlighted by seams just below the bust and strong moulded shoulders in the form of puffed, butterfly or banjo sleeves. Detailed necklines with ruffles, cowl, collars, ties such as the pussy bow and corsages further emphasised the torso.
The Bias Cut
Perhaps 1930s fashion is probably best known for its invention of the bias cut. This involved cutting the fabric at a 45 degree angle instead of along the straight grain and was introduced by Vionnet. This method allowed the fabric to hug the body naturally by giving horizontal stretch and thus emphasises a woman's natural shape. The result was draped, sinuous and fluid evening dresses that created the flirtatious and sensuous look which epitomises for many, the iconic 1930s silhouette.
Combine the bias cut with the trend for backless and we are onto something quite daring and risqué, even by today's standards. For the back was the new erogenous zone and was emphasised by plunging backlines or slashed backs and adorned with jewellery.
But the bias cut extended into day dresses as well and brought exquisitely detailed and intricate pattern cutting techniques. This then developed into irregular hems, tiers, layering and panels often in waves of printed chiffon. We see these in the surviving examples of 30s chiffon tea dresses that look surprisingly contemporary.
1930s prints:- 
Art deco styles were still popular during this decade and dress fabric of this era reflects this. Fabric prints are an iconic style feature of this time and came in cubism influenced geometric pattern, dots, lettering and even picture prints of popular objects or animals. Colours in print were contrasting but earthy tones in daywear were popular. Eveningwear was often white, champagne or black.
Working Girl
For the first time, women from all socio backgrounds were able to be fashionable. Cheaper man-made fabrics were available (like Rayon) and new inventions such as the zip were making garments quicker and cheaper to make. More women were working as industry revived and this saw the rise of the business girl who could afford to dress well. Daywear needed to be functional but it didn't lose its elegance or femininity. The womanly shape was equally emphasised in work or day wear with cinched waistlines, skirts fitted to the hip and fullness added to the hem via pleats or flared gores. Fussy blouses in silk, rayon chiffons with ornamental ties and frills were hugely fashionable and are rather OTT to the modern eye but still a beautiful feminine look.
Sports Causal
During the 1930s, sports and outdoor actvities became fashionable. Being fit and healthy was encouraged and this extended into ideas on clothing. This period saw the rise of the lounge pant and wide leg trouser heralding a chic and casual look. Further influences came from sailor and military styles.
Hollywood Glam
In need of a boost and some escapism during the great depression, ladies flocked to the cinemas to see what their favourite stars were wearing. The romance and glamour of the cinema was readily exploited by all. You will see many actress endorsements or 'autographing' home dress making patterns and in ready to wear catalogues during this time. The imitation of stars is fundamental to understanding the fashions of the 1930s. Hollywood fashions were anything but understated and because people wanted escapism, they lapped it up.
Get the 1930s Look – our top 3 tips to get you started
Tip 1 – the foundation
As with all styles, getting the right foundation garments (underwear) is essential. Modern underwear doesnt sit on the natural waist and modern bras mould the bust too much into a rounded shape and push up a little too much. Yes, you will be able to get away with it, but not hipster knickers - since much of 30s fashion is fitted on the hip area - you can end up with far too many rolling lines that desirable. Our recommendation is a good pair of waisted knickers and a slip to smooth your line (often helps with some of the sheer chiffon blouses too)
Tip 2 - accessories
gloves, silk scarves, a faux fur (or a real vintage one) are the making of any 30s outfit. Fashion was fussy, with plenty of frills, buttons, gathers and bows. So accessorise a-plenty.
Tip 3 - hair and hats
30s hair was mostly bobbed - although the middy style (A U shape at the back) started to some into fashion in the late 30s. Styles were curly and the marcelle wave was very popular. For those who have longer hair or lack the time to get the curl - get a good hat or even a simple beret will do the job.
1930s Fashion Shopping List
Whether you are wanting a scene from a hollywood movie or something more Poirot, getting the 30s look is more difficult to recreate. But a few key garments will go a long way...(enough to get you started):-
Silk or chiffon blouse
Calf length skirt with inverted front pleat or slightly flared at bottom
Bias cut tea dress – puff sleeves
Wide leg pants for the sporty look.
Bias cut floor length gown in silk satin or rayon
A silk or rayon slip
Must have accessories:- 
Tilt hat or beret
 A fur (plenty of lovely faux furs available)
Patterned silk scarf
Gloves
Plenty of bling
Click here to browse our 1930s fashion selection
Further Reading:-
1930s Fashion - The Definitive Sourcebook
Everyday Fashions of the 30s - Sears Catalogue
Style icons from the 1930s:-
Wallis Simpson
Marlene Deitrich
Bette Davis
Greta Garbo
From the Blog
Stories from the Sampling Room – The Jitterbug Dress
The Jitterbug dress brings me much joy. It is a bundle of happiness and optimism personified in a dress. I honestly think that we were channelling this when we started creating...
Read more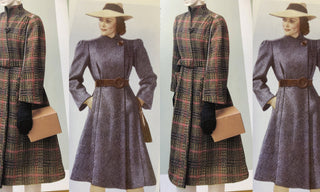 Stories from the Sampling Room - The Utility Coat
The strangest year on record continues...but we have enjoyed the time to work on new styles and ideas for both the upcoming AW season and for next year. Although we cannot...
Read more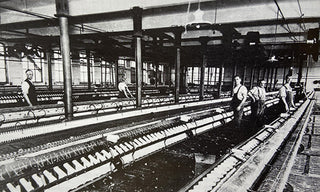 A Dream in the Making
We are just over half way through a very challenging year for people all over the world. There is absolutely no doubt that the 2020 pandemic has wreaked havoc for so...
Read more
Safe & Secure Payment
All payment information is protected by secure connection
Pay in 3 with PayPal
Spead the cost with flexible monthly payments with PayPal
International Delivery
International Delivery available worldwide
Pay in 3 with Klarna
Spead the cost with flexible monthly payments with Klarna