About Us
The House of Foxy is a British brand of womenswear that takes influence from the classic 20th Century fashions - primarily 1925 through to 1978. We are based in West Yorkshire, England - an area famous for its textile heritage. We proudly produce the majority of our own range here at our onsite factory.
Inspiration & Sketching
The birth of any new garment starts here. The design is inspired by original garments, patterns, photographs, movies or sometimes just what comes to our designers mind at the time! Since we make so much here, it means we are flexible enough to turn around designs and new ideas in a matter of days.
Measurements & Pattern Making
This is the maths bit! We have a small but extremely skilled team which include our Pattern Cutter and sample machinists who have years of experience in the precision-based task of taking the design into a real creation. It starts with the paper pattern, sampling this into the chosen fabric, and then moving the pattern onto card form. Once we are happy with the garment, it goes into grading to generate the patterns required for each size.
Marking & Cutting
We are old school and use our hands rather than computer based technology. We have hundreds of patterns on card both in use regularly or older style in storage. These card patterns are used to mark the fabric for cutting which is then given to our machinists to make.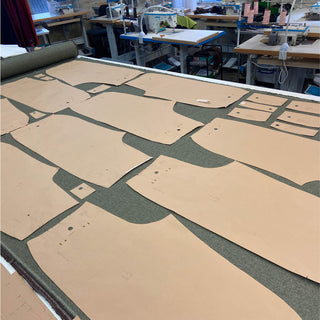 Sewing
Our onsite factory is equipped with a number of different machines suitable for a range of purposes - whether button hole-ing, lockstitch, overlocking, shirring and so on. We are privileged to have 5 exceptionally skilled machinists who live locally and have different skill sets and backgrounds. This hugely contributes to the variety of product we can make and means we can tackle most designs. Throughout the week we produce many different items onsite - it's never boring!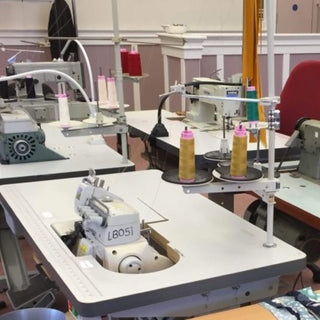 Finishing & QC
Quality is super important and this part of the process is when the garment is pressed, checked over, and finished ready for the warehouse.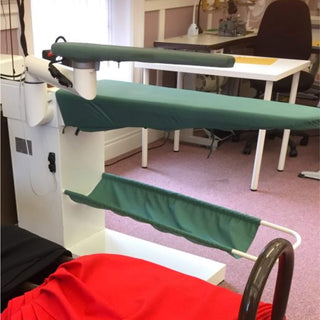 Storing & Sending
We want our customers to love receiving their garment as much as we love designing and making it. Our warehouse & despatch team go to great lengths to ensure everything is carefully stored ready for when they are purchased. A lot of care and consideration is made when packing the garment to send. We like our customers to enjoy unboxing and use sustainable packaging as much as possible.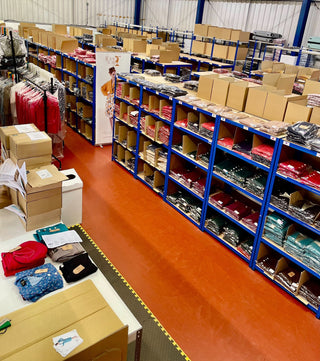 Customer Services
We are a heart-centred business and think it's really important that our customers have the option to speak to a real person. Even though we cannot be available 24 hours a day, we have a small team who really understand the garments and are available to help and advise.