Designs done in-house
Handmade in Yorkshire, UK
World-wide delivery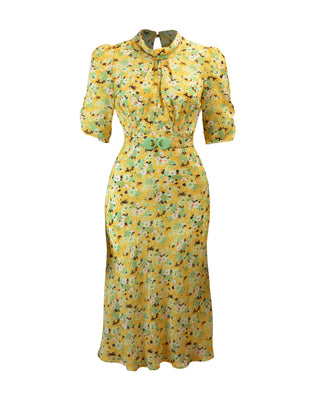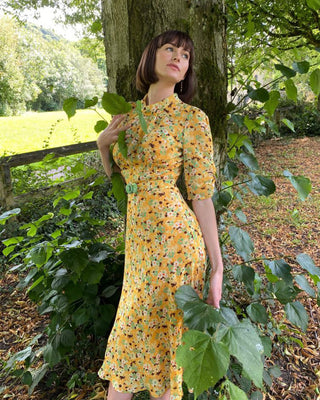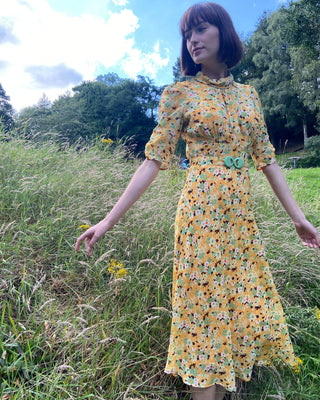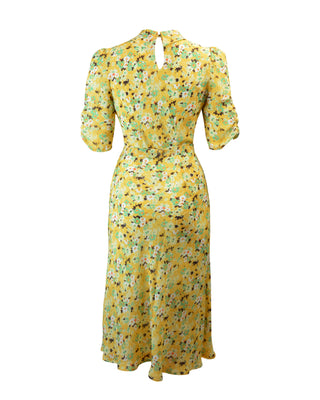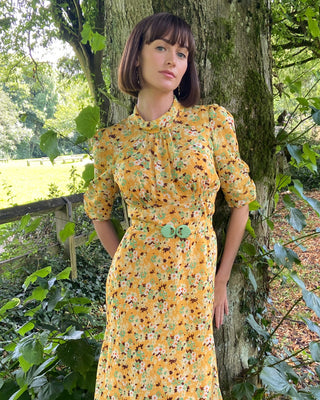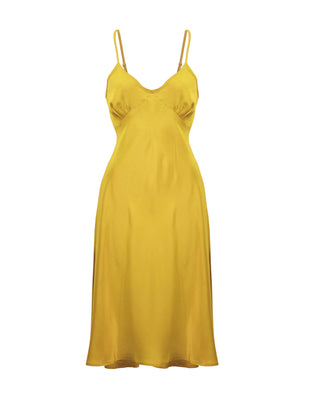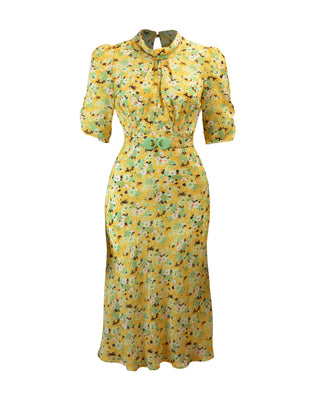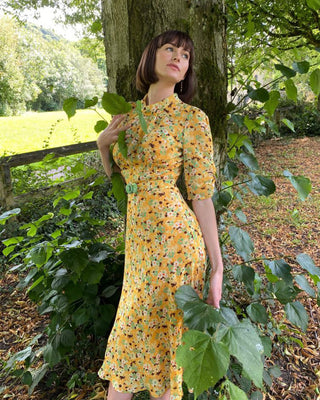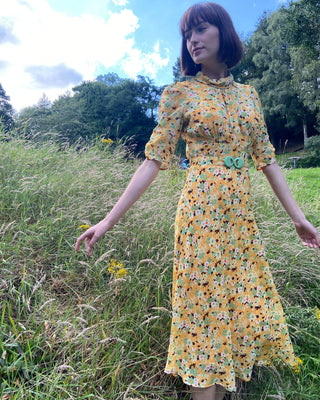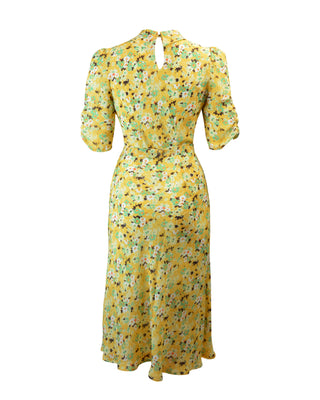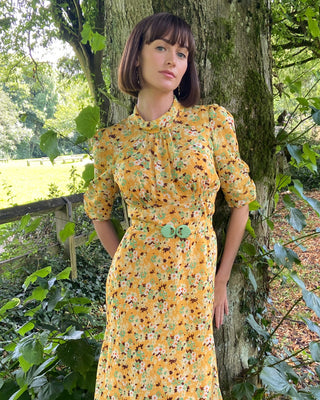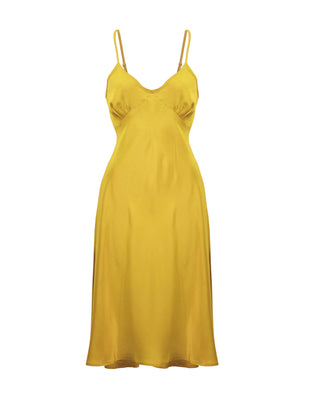 30s Loretta Bias Dress & Slip - Indian Summer
This beautiful dress is based on a combination of mid 1930s fashion drawings, photographs and original vintage 1930s items with some modern adaptations thrown in.
Size
UK 8
UK 10
UK 12
UK 14
UK 16
UK 18
SIZE
BUST
WAIST
HIPS
6*
79cm
31"
61cm
24"
84cm
33"
8
84cm
33"
66cm
26"
89cm
35"
10
89cm
35"
71cm
28"
94cm
37"
12
94cm
37"
76cm
30"
99cm
39"
14
99cm
39"
81cm
32"
104cm
41"
16
104cm
41"
86.5cm
34"
110cm
43"
18
110cm
43"
91.5cm
36"
116cm
45.5"
20*
to 117cm
to 46"
to 97cm
to 39"
123cm
48"
22*
to 124cm
to 49"
to 104cm
to 42.5"
130cm
51"
24*
to 131cm
to 51.5"
to 110cm
to 44"
137cm
54"
26*
to 138cm
to 54"
to 117cm
to 46"
144cm
57"
* Sizes 6, 20 to 26 available on selected styles only.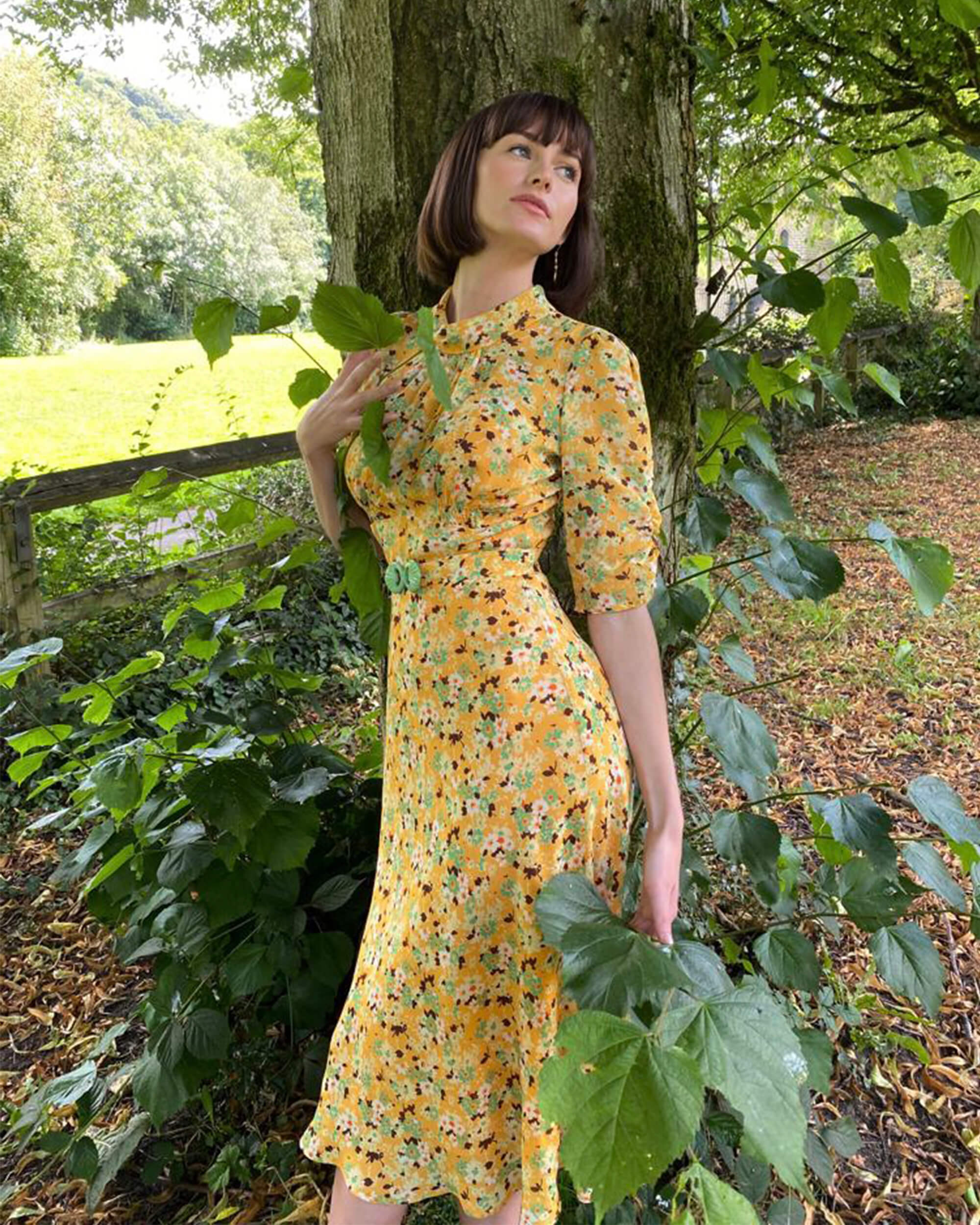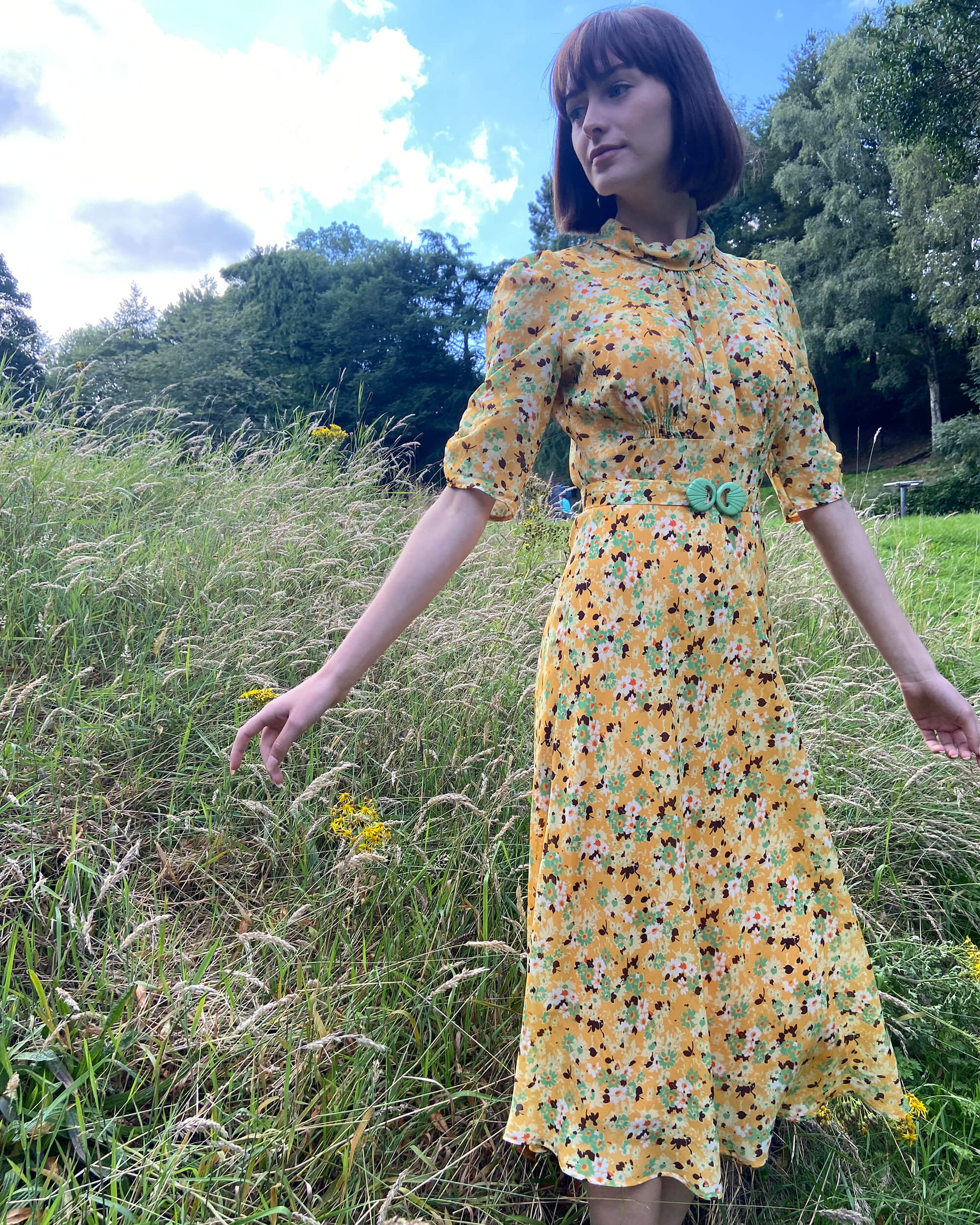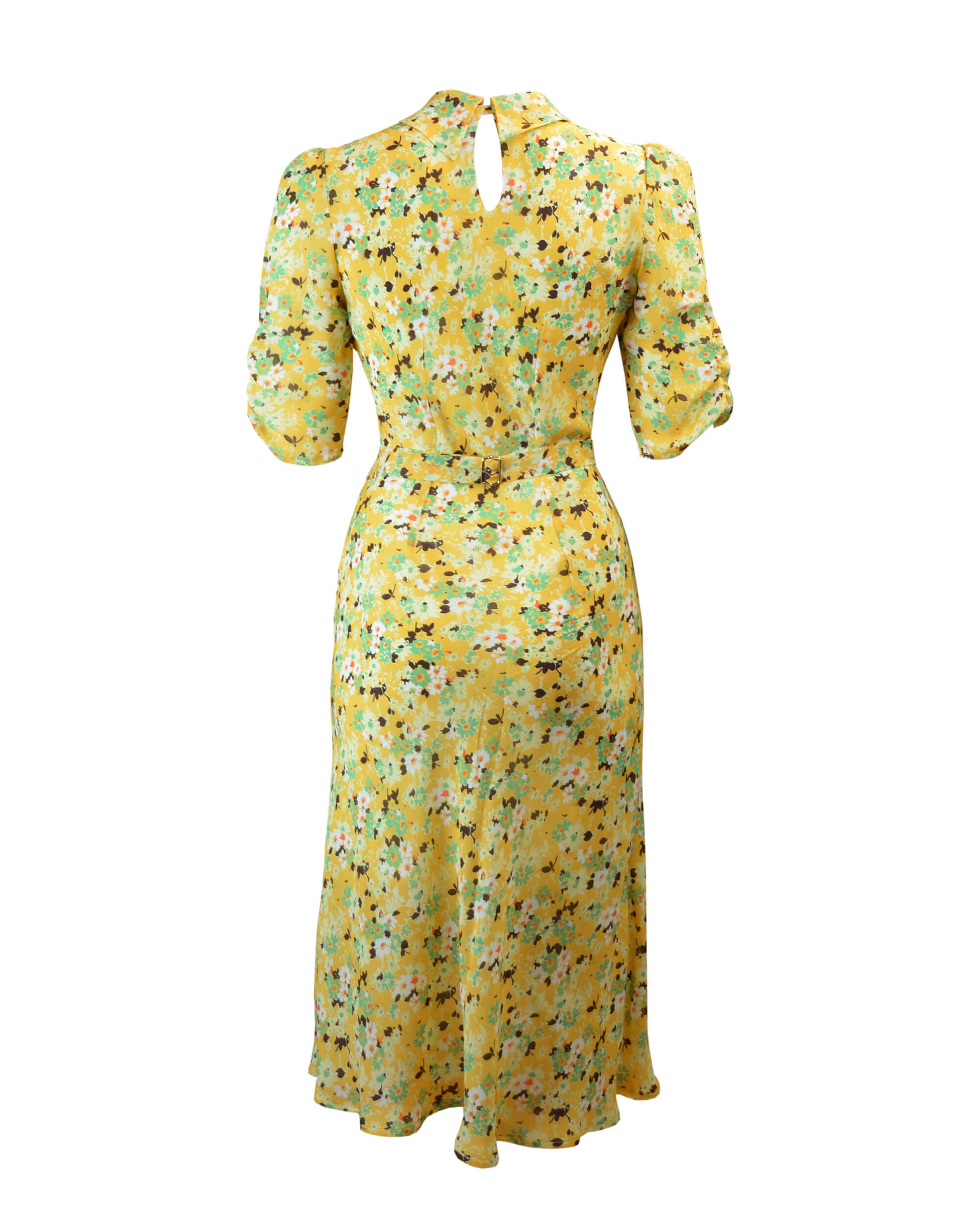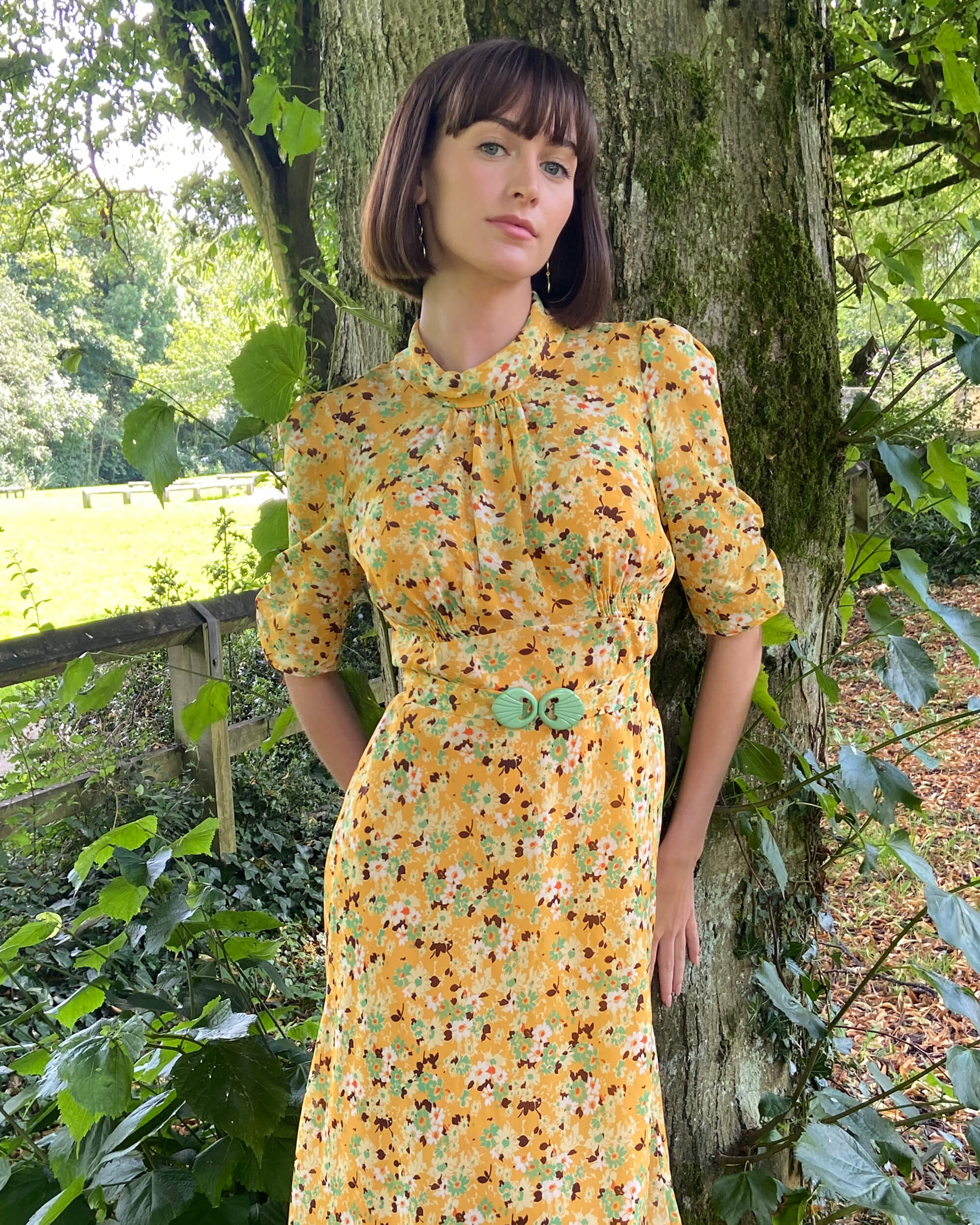 Product Details
Sizing Info
Outfit Ideas
An exquisite 1930s style dress - inspired by a mid 1930s original and has some fantastic vintage features including art deco belt and bias cut to float around the body. Produced in floaty 1930s repro print 'Indian Summer' in quality viscose georgette and includes golden yellow slip.
The 1930s was reknown for the bias cut, detailing and use of ligher fabrics such as silk, chiffon and georgette. We found this delightful rayon georgette in our signature 1930s poppy print and created this new amazing 1930s style around it. It also gave us the opportunity to create the perfect vintage style slip which is also bias with bust shaping to ensure the vintage silhouette is retained (modern slips dont have this anymore)
Neckline is a high cowl - seen in many styles in the mid 30s - and has shirring detail just below which creates fullness into shirring under the bust line. Skirt is bias cut and falls in flattering lines around the body. The only fastening required is a keyhole and button fastening at the back to get over the head. The rest of the dress is easily pulled over the head - tightened at the waist by the sash belt with cream bakerlite style art deco fastening. Sleeves are also very 1930s in style - gathered at the sleeve head and has gather detail in the cuff.
But wait! What about the slip? We have included a beautiful golden yellow underslip in soft viscose/silk blend. This slip has been based on an original and again goes over the head and falls beautifully around the body due to its bias cut.
No zip - due to bias cut - pull over head. 
Key 1930s features include:-
- high cowl neckline 
- sleeves with gather detail 
- bias skirt
-  sash belt with art deco clasp
- low calf length - approx 77 cms from natural waist (NB: this will change depending on your own shape due to the bias nature of the garment)
- under slip
 
Dry clean or cold hand wash - MUST dry flat due to bias panels.
Fabric outer: 100% viscose crepe georgette.
Fabric slip: 86% acetate, 5% polyester, 9% silk
Made in Yorkshire, England
Care Instructions
Dry Clean
Cool Hand Wash
Safe & Secure Payment
All payment information is protected by secure connection
Pay in 3 with PayPal
Spead the cost with flexible monthly payments with PayPal
International Delivery
International Delivery available to Europe and the United States
Pay in 3 with Klarna
Spead the cost with flexible monthly payments with Klarna